While currently living in New England, Robert Lindeman was born and raised a New York Yankees fan. He loves the history of the team and enjoys going to a few games a year with family and friends.
In sports, there is one word when a team wins multiple championships within a certain era. We call those teams that accomplish that feat a dynasty. Every time you hear the word dynasty, which teams do you think of? You think of the Chicago Bulls with their NBA six titles in the '90s, the New England Patriots with their four Super Bowl titles in the 2000s and 2010s, the San Francisco 49ers with five Super Bowl titles in the '80s and '90s, the San Antonio Spurs with their five NBA titles in the '90s, 2000s and 2010s.
And, most recently the Chicago Blackhawks with their three Stanley Cup crowns in the past five years as well as the San Francisco Giants with their three World Series titles in the past five years. All of those teams, players, coaches and managers have accomplished a rare goal that many players and coaches dream of. But, it seems that there is one team that gets lost in the shuffle when it comes to being mentioned with those teams: the New York Yankees.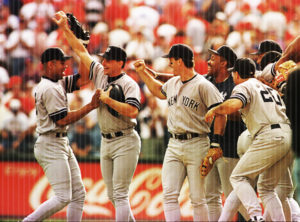 Between 1996 and 2000, the Bronx Bombers managed to win four World Series Championships under then manager Joe Torre. They also pulled off a three-peat from 1998 to 2000. Different players from those teams were named World Series MVP in each title: Mariano Rivera (1999 World Series MVP), John Wetteland (1996 World Series MVP), Scott Brosius (1998 World Series MVP) and Derek Jeter (2000 World Series MVP). They had an excellent pitching staff in Andy Pettitte, Wetteland, Kenny Rogers, David Wells, Orlando Hernandez and Roger Clemons as well as future Hall of Fame catcher Jorge Posada to catch those balls and strikes behind home plate.
Also, you knew when Rivera stepped out on the mound in the 9th inning; he was going to close the door on the game. The '90s Yankee teams had great defensive players in shortstop Jeter, third baseman Brosius, and center fielder Bernie Williams (1996 ALCS MVP). Plus, they always knew how to hit in the clutch with players such as David Justice (2000 ALCS MVP), Jeter, Williams and Darryl Strawberry in his later years.
Maybe the reason why the '90s New York Yankee teams don't get the credit they deserve because they were a victim of their talent. They had so many great players on those teams that everyone expected to the Yankees to win the World Series or at least be in the World Series every year. They also had the MLB on lockdown for five years. There is a lot of praise for the '90s Atlanta Braves but they only won one World Series title. The Yankees during that time did something that a few teams have ever done, which is winning multiple championships in a certain time period. The '90s New York Yankees are one of the most underrated dynasties not only in Major League Baseball but in sports in general.