Robert Lindeman is an active community leader and member of his Synagogue, Congregation Kehillath Israel.
Congregation Kehillath Israel stands in the heart and center of Coolidge Corner, a small neighborhood in Brookline, Massachusetts that serves as the cultural hub for the Jewish community of Greater Boston.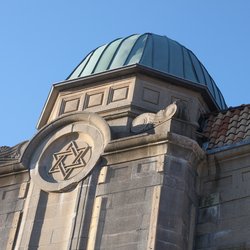 Robert Lindeman serves as a lay leader of the congregation, and volunteers to lead Sabbath services, which often requires him to sing acappella. He also serves as "gabbai," an assistant to the rabbi. As gabbai, he welcomes guests, answers questions, and helps to direct traffic at the Synagogue. Robert Lindeman is devoted to his faith and loves meeting with and helping out the community.
Congregation Kehillath Israel has a long and celebrated history in Brookline. The congregation was officially established 100 years ago in 1915 with a membership of 36 people. The synagogue's cornerstone was laid in 1923, and the first High Holy Days were held in the new synagogue in 1924. The congregation, which now serves over 400 families, remains a thriving part of the Brookline community today.
Under the leadership of its Board of Trustees, Rabbi William Hamilton and Rabbi Rachel Silverman, Congregation Kehillath Israel announced plans in June of 2015 for an extensive renovation that will include:
● a three ­story addition for a new social hall, main office, and preschool programs
● a renovated sanctuary building
● an apartment building for seniors
●  offices for Jewish young adults to work on creative startup companies that benefit the Jewish community
● a college extension program
● offices for non­profit organizations that benefit young adults
The community's leadership believes these plans for expansion and renovation will help the Congregation of Kehillath Israel grow confidently into the future. Robert Lindeman and other leaders hope to form new partnerships with other organizations throughout the community and establish themselves as an even more thriving center of learning and personal growth.
Robert Lindeman is happy and proud to be a part of Congregation Kehillath Israel, a congregation that has both a storied past, and a bright future. To learn more about Lindeman and his community work, check out Robert Lindeman on About.me: https://about.me/robertlindeman.