Robert Lindeman grew up a big fan of the New York Yankees.
He remembers going to games as a kid and even know living in New England, Lindeman still enjoys taking a trip to the Bronx to catch a home game every now and then. Sports make up a great part of art and culture for Robert Lindeman and no athlete portrays that culture better than one of his favorite all time players, Derek Jeter.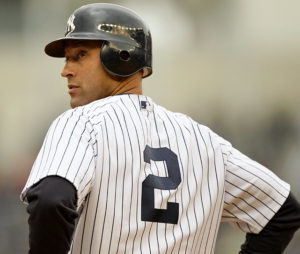 Derek Jeter was born on June 26, 1974, in Pequannock, New Jersey but moved to Kalamazoo, Michigan, when he was four years old so that his father could pursue a Ph.D. in psychology from Western Michigan University. Jeter's father is African-American and his mother is Caucasian; so Jeter is a mix of African, Irish, Indian, and German.
Tall, lanky and athletic, Jeter's love for baseball began when he played for Kalamazoo Central High School. His natural talent for the game sowed the seeds of a much greater ambition—to become a major league baseball player and be a part of the New York Yankees. He worked hard to do well in baseball and had many titles and national awards against his name.
The year 1992 proved very lucky for him. Apart from being named the American High School Coaches Association's 1992 "High School Player of the Year," the 1992 "Gatorade High School Athlete of the Year" and USA Today's "High School Player of the Year," he moved a step closer to his ultimate goal when he was drafted by the Yankees in 1992.
Derek Jeter bats right-handed, throws right-handed, and wears uniform number 2 and the year 1996 saw him realize a part of his dream when he replaced shortstop Tony Fernandez, who was put on the disabled list. He played against the Seattle Mariners, performed well in the infield and also helped the Yankees win the World Series against the Atlanta Braves. His wonderful performance throughout the season won for him the 1996 American League Rookie of the Year Award. Robert Lindeman has fond memories of these moments that he is excited to tell his children and grandchildren about. 
After that there was no stopping him- he helped the team win four more world series and in 2003 and the all-time Yankees' hit leader was deservedly crowned as captain of the team.
Jeter became very famous and his reputation always preceded him, so much so that one of his fellow shortstop prodigies- Alex Rodriguez, to whom he was often compared, joined the Yankees in 2004. Together, they were formidable and the Yankees won the World Series again in 2009. Jeter was now a five-time champ.
Well known for his "patented "inside-out" swing and acrobatic jump-throws", Jeter now became known as a player who blossomed under pressure. He developed into an all-round player and became an important part of the dominant Yankees team. His winning style was admired by coaches, fans, peers and commentators alike. During this time, Robert Lindeman absolutely loved watch Jeter play, fascinated by his hard work and determination.
He won the first of five gold glove awards for fielding excellence in 2004, and in 2006 he finished second in the voting for the league MVP award. With his 2,722 hit, the most in franchise history, Jeter passed Lou Gehrig and followed this up to reach 3,000 career hits in 2011. A dislocated shoulder kept him out of the game for some time, but when he returned, it was as if he had never left.
In 2013, because of a lingering ankle injury, Jeter played just 17 games and that was the precursor to his retirement in 2014. Jeter ended his career on a high note – a 5-time World Series champion, 200 post season hits, and 308 post season average, 14-time American League All-Star, 8 seasons with 200+ hits and a 5-time AL Gold Glove Award winner.
For Jeter baseball was the greatest sport in the world and compared it to real life where every day grind and hard work pays off.
When he retired he founded the website The Players' Tribune and now wants to own a team. He has a shrewd business mind and his love for baseball filters through in all that he does. For this 41-year-old former shortstop "baseball is the greatest sport in the world."