The New England Patriots start their quest for a Super Bowl repeat this Saturday as they host the red-hot Kansas City Chiefs in the AFC Divisional Playoff in Foxborough. They are trying to go for their first back-to-back Super Bowl titles since 2004. The team is trying to add to its already excellent dynasty. With another Super Bowl title, they could be pegged as the best NFL franchise of all time. Tom Brady would surpass the legendary Joe Montana in Super Bowl titles, and Bill Belichick would surpass the late, great Chuck Noll for Super Bowl titles as a head coach.
There is no doubt, the Patriots are talented. Tom Brady had a usual Brady season with 4,077 yards, 36 touchdowns and only 7 interceptions. He also had a QB rating of 102.2. He is also surrounded by weapons that can fly away from any corner and catch a touchdown pass. Wide receiver Julian Edelman was having a good year before he was slowed down with an injury. The college quarterback turned receiver averaged 61 receptions, 692 yards and 7 touchdowns. Also, you can't forget about the animated tight end Rob Gronkowski. He has never met a touchdown ball that he didn't spike. Gronk averaged 72 receptions, 1,176 yards and 11 touchdowns during the regular season. He led all tight ends in touchdowns in the NFL.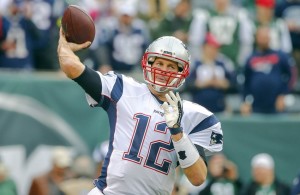 The Pats have had a running back by the committee approach throughout the season, largely due to injuries. Dion Lewis was starting to become a big part of the offense before his season-ending injury. He was a back who could get touchdowns on the ground and through the air. LeGarrette Blount was starting to really heat up in the 2nd half of the season before he was placed on season-ending IR. Blount averaged 165 carries, 703 rushing yards and 6 touchdowns before his injury. James White has stepped up nicely in their absence. In the final three games of the season, White had 162 yards and two touchdowns.
But, the most underrated aspect of this team is their defense. Although, the players on defense may not be household names, but there is some talent on this end. On the year, defensive end Chandler Jones has 44 tackles, 12.5 sacks and 1 interception, but he also has 4 forced fumbles. Jamie Collins had 89 tackles, 5.5 sacks, 1 pick and 5 force fumbles during the regular season. Cornerback Logan Ryan has 74 tackles and led the team with 4 interceptions. And, you can't forget about Malcolm Butler, last year's Super Bowl hero that sealed the championship for the Patriots. Although, he only had two interceptions during the regular season, he is a major threat to make a big play.
Plus, the Patriots have the coach in Bill Belichick, "The Hoodie," that can plug in no-name players or players on the downside of their careers into his system. He is a master strategist in game planning for opponents and getting his team prepared for game day. Belichick is a first-ballot Hall of Fame coach who may not have much to say in press conferences. But, he has a lot to do with the success of the Patriots in the last two decades.
The Patriots definitely have a strong chance of making it out of the AFC. They can go into Denver and beat them if they were to face them in the AFC Championship Game. The Pats have a strong chance of repeating as Super Bowl champs. But, they will face a tough challenge in the Carolina Panthers or Arizona Cardinals to get accomplish that goal.